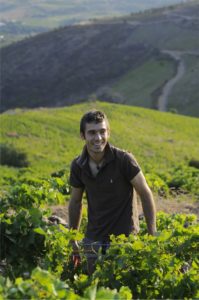 "When I get asked to present Domaine Augustin, I tend to let the bear inside all the men who have spent a lot of time alone, outside, express himself.
I often reply, it' s me… Augustin. Well in fact, it's more than just me.
First of all, it's my father, who taught me the love for this job, here in Banyuls, this old-fashioned vineyard, not to say downright ancient, as it is very old. It is also the family estate, where I worked during my holidays when I was a child, first preparing the orders, in the cool cellar and then, when the strength finally came, in the vineyard, in the midday sun, with my father's workers. I still remember my first day of work at Col Perdiguer, a tough time.
However, it was this job that I chose to start off in life.
I spent 3 years on the family estate, 3 years with these workers who were the first to teach me the gestures that allowed me to prune, graft, hoe, plough, tie…